COVID-19 Action
The indirect effects of famine stemming from the COVID-19 pandemic has created significant collatoral damage. As parents lose their jobs, families of Enfants du Mékong's students find themselves deprived of any income and unable to obtain the means to feed themselves properly. 
Once local representatives brought this problem to the attention of Enfants du Mékong, the organization was able to organize food distribution for their students' families and neighbors. Emergency funds from the Artelia Foundation and other partner associations enabled Enfants du Mékong to purchase and distribute provisions to families in Thailand, Vietnam, Burma and Cambodia.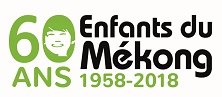 Between April and June 2020
Since 1958, Enfants du Mékong has been helping children in Southeast Asia. Nearly 82,000 children have been granted educational access thanks to sponsorship and support. Enfants du Mékong has been involved in the construction of about 100 development projects per year (schools, wells, etc.) and manages 9 centers and 77 homes throughout Cambodia.
The "Bamboos", a group of 60 volunteers engaged in international solidarity, work in the field for 1+ years to supervise the NGO's various projects. 
Enfants du Mékong operates in 7 countries: Vietnam, Thailand, Laos, Philippines, Cambodia, Burma and China.